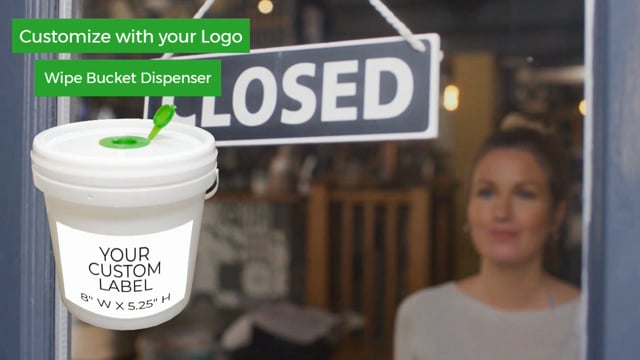 Custom Label Empty Wet Wipe Dispenser Plastic Bucket with Pop Up Cap Lid (Set of 2)
Custom Label – Your company logo or image is printed on 8 inch by 5 inch glossy sticker paper and applied to the body of the bucket. By uploading your logo to this custom order, you are confirming that you have permission from the owner or trademark holder to have the logo or image printed.
Bucket pop up lid color may vary.
Empty wet wipe plastic dispenser bucket with pop up lid and handle. Fits wet wipe rolls up to 8″" diameter. Food Grade. Virgin materials are approved for food contact and meet FDA regulations.
Use on its own with a single wet wipe roll. Pop up plug on the lid ensures your wipes retain their moisture when not in use. Can also be used with our Eagle Wipe Dispenser Stainless Steel, just open the pop up plug before sliding into the dispenser.
Measures 10 inch diameter x 10 inch height.
Price: $37.50
In stock
Only logged in customers who have purchased this product may leave a review.