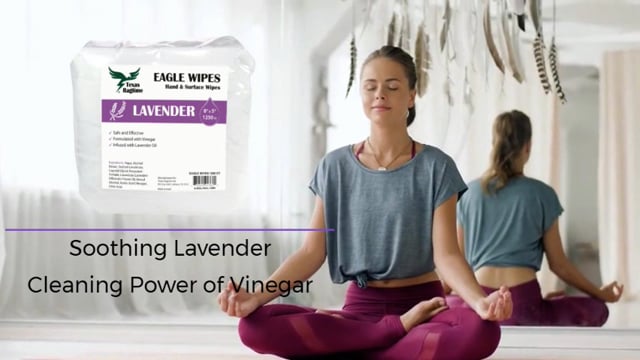 Eagle Wipes Natural Cleaning Wipes with Lavender Oil 4 Rolls/Case (1250 Wipes/Roll) 5000 sheets
Eagle Wipes Natural Cleaning or Gym Wipes is a great everyday wipe for hand and surface use. Use to clean gym equipment surfaces with ease. Each gym equipment wipes case has 4 rolls of 1250 sheets each, a total of 5000 sheets. These cleaning wipes use natural ingredients like lavender and vinegar. The gym cleaning wipes can be used with upward pull dispensers. Individual gym wipes measure 8″ x 5″.
NATURAL GYM WIPES – Using natural ingredients like lavender & vinegar
CLEANING WIPES -Safe and effective hand and surface wipe
EACH GYM WIPE -Measures 8″ x 5″, 4 rolls, each roll has 1250 wipes total of 5000 sheets
EQUIPMENT WIPES REFILL- Use for fitness cleaning wipes, workout wipes for equipments, yoga & fitness wipes, yoga mat wipes. Wellness center wipes for wellness equipment and even home gym wipes. These gym wipes can be used with upward pull wipe dispenser. Pre-saturated wipes use natural ingredients like Lavender and vinegar.
PAY AS LITTLE as $0.02/sheet when purchasing a case
Ingredients:
Alcohol Denatured
Sodium Levulinate
Caprylyl Glycol
Potassium Sorbate
Lavandula (Lavender) Officinalis Flower Oil
Benzyl Alcohol
Acetic Acid (Vinegar)
Citric Acid
Price: $99.00
Out of stock
Email when stock available
Only logged in customers who have purchased this product may leave a review.