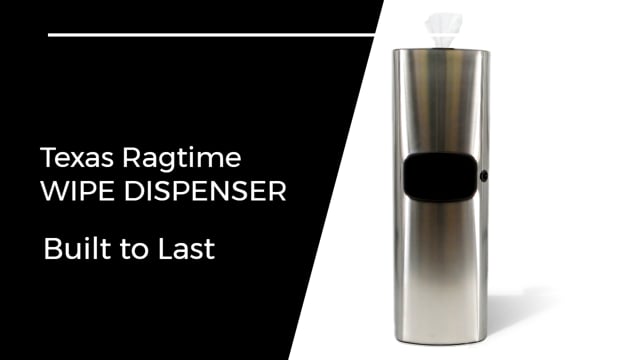 Texas Ragtime Eagle Wipes Stainless Steel Wet Wipes Dispenser Bucket & Trash Can Set for Gyms – Offices – Hospitals – Schools – Restrooms
EASY, CONVENIENT ACCESS: Texas Ragtime Eagle Wipes has created a new user-friendly sanitizer wipes dispenser with a built-in trash disposal and easy front door access for a one-stop cleaning station. It makes life significantly easier for gym-goers, patients in doctor's offices, daycare teachers, restaurant servers, and anyone in a public or commercial space in which germs, dirt, and bacteria are incredibly common. In one, quick motion, you can single-handedly grab a sanitizing napkin, wipe down equipment and discard in the discretely concealed trash can contained inside the dispenser.
UPKEEP MADE SIMPLE FOR EMPLOYEES AND OWNERS: Our all-in-one sanitizing station is useful for maintaining a clean work and business environment. This hand sanitizing and trash disposal set stands at 36" tall with plastic built-in trash can that fits up to 6 gallons or 23 liters of waste as well as a plastic bucket that is compatible with sanitizer wipe rolls less than 8" in diameter. With an easy-access front door, changing out the rolls and garbage is smooth and simple.
NEW, IMPROVED MODERN DESIGN: Just because commercial gym wipe stations are designed for sweat, germs, bacteria, and waste doesn't mean it has to LOOK like it is. Boasting a classic silver color with a pristine, slimline design, the Eagle Wipes 2-in-1 disinfecting wipes container and cleansing stand doesn't distract or overwhelm the aesthetics of any room. In fact, it adds an elegant and sophisticated tough to any decor.
HIGH QUALITY, DURABLE BUILD: Constructed with premium stainless steel and a silver finish, the Eagle Wipes gym dispenser stand for hands and workout equipment can withstand a lot of wear-and-tear, which is particularly important in high-traffic areas like a public bathroom, music venue or festival, sporting arena, or convention center. Utilize it for indoors or outdoors. This trash can and sanitizing wipe dispenser combo is rust, water and corrosion-resistant.
THE "TEXAS RAGTIME" GUARANTEE: The inspiration behind this product was a desire to provide a well-made, sturdy gym and commercial-use sanitizing and trash station that wasn't an eye-sore or difficult to navigate. Flawlessly designed to keep trash contained and antibacterial wet wipes moist, you'll love this wipe container. But if you don't or there is a defect, return within 30 days for a refund or replacement.
Product Details:
Stainless Steel Gym Wipe Dispenser, 36"(h) x 13"(d)
Bottom rubber pads for stability
Size: 15.5" (h) x 10.5 (d)
Built-In Plastic Trash Can 6 Gallons/23 liters capacity. Use with 13 Gallon trash bags
Plastic Bucket for Wet Wipe Roll (Fits wet wipe rolls up to 8" diameter)
Price: $199.00
In stock
Only logged in customers who have purchased this product may leave a review.