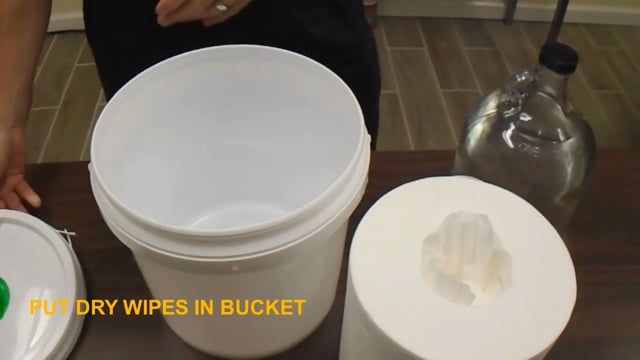 Texas Ragtime Industrial Dry Wipes with Pop up Cap Buckets | Add Your Own Cleaning Solution | Heavy Duty Mega Roll Included (9″ x 12″ x 250 Sheets – 6 Rolls- 1500 Wipes per Box – 2 Buckets)
Dispensing Bucket System Includes:
6 Rolls of DRY wipes (9" x 12" sheet x 250 sheets = 1500 sheets) Roll Size 8" diameter x 9" height
2 Plastic Dispensing bucket with pop up cap 10"diameter x 10" height
VERSATILE BUCKET SYSTEM: Add your own solution to the bucket system to make pre-moistened wipes. Includes 6 center pull refill rolls for wiping, degreasing, & cleaning and 2 buckets with pop up caps.
POP-UP CAP DISPENSING SYSTEM: The buckets come with pop up caps which allow you keep moisture in when not in use. When the lid is properly closed, fluid will not leak, or spill when dispensing upward pull moisturized wipes.
QUALITY MATERIAL: The wipe cloth is made from a natural cellulose and synthetic base. It is absorbent, heavy duty, and low lint which makes it a great bucket wiper dispensing system, better than paper towels.
PERFORMANCE & VALUE: The absorbent wipes along with the bucket dispensing system reduces waste and increases your cost efficiency.
HEAVY DUTY CLEAN: Ideal for cleaning gym equipment, bathroom, surfaces, and more. For commercial use in industries such as automotive, medical, food service, and more.
Price: $199.00
Out of stock
Email when stock available
Only logged in customers who have purchased this product may leave a review.